Upcycling is looking better everyday
---
Upcycling is the eco-conscious practice of transforming discarded materials into something of new and greater beauty.
Burning Torch is an eco-conscious lifestyle collection that aspires to timelessness. Founded in 1999 as an expression of designer Karyn Craven's views on art, nature, innate human creativity, Burning Torch has been a pioneer in upcycling, the practice of transforming discarded materials into new items of greater beauty and lasting value. This practice serves to better care for our planet while nurturing our own sense of aesthetic adventure. The company has remained dedicated to the elevation of what otherwise might be overlooked into a new kind of beauty.
The brand's winged logo features a hand holding aloft a burning torch, symbolically championing the timeless ideals of transformation and freedom: "This is something I wish for everybody." A personal credo for Craven.

Burning Torch derives inspiration from the natural realm as well as the makers of the human world: the artists, craftspeople, musicians, poets, and sages whose work expands the boundaries of what is possible. Today as always, with colors drawn from nature and patterns unearthed from the archives of culture, Burning Torch's collections reveal us as global citizens connected to the imaginarium of a better world.
The idea for Burning Torch arrived in the late 90s when Craven discovered a cavernous vintage "rag house" filled with bale upon bale of vintage garments. The first upcycled pieces Craven developed were vintage army pants with hand beading and vintage kimono trim. What began with a collection of upcycled garments evolved into a globally-influential and inspired fashion brand and eventually an eclectically thoughtful retail space in Venice Beach.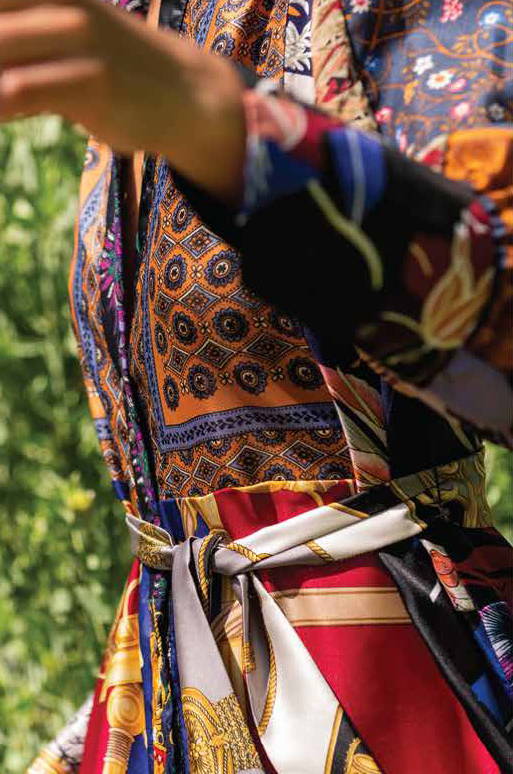 ---
---
The industry of Upcycling
Today, scrap recycling industry employs close to 150,000 men and women in the US alone. That does not include artists and artisans like Karyn who upcycle to create their goods and whose contributions are just as significant when it comes to alleviating the burden of waste on our environment.
The other key take-away is in the process of manufacturing, around 35% of materials in the supply chain end up as waste.
"An average consumer throws away 70 pounds (31.75 kilograms) of clothing per year. Globally we produce 13 million tons of textile waste each year 95% of which could be reused or recycled."
For Karyn and her team at Burning Torch, upcycling is the fuel to their fire. They have been active participants in one of the best ways that fashion brands can improve the state of our planet since inception. Their upcycling methodology reduces the need for raw goods, drastically reducing toxic chemicals use during production. The design and manufacturing practice help tackle issues like poor air quality, reduction of landfill waste, greenhouse emissions and water pollution.  
Sourcing materials is art within itself, and due to the nature of working with upcycled goods, no two of Karyn's pieces are the same. All upcycled collections are made in small batches with each garment hand cut so that the most fabric possible is harvested from the source.
Burning Torch continues to evolve, producing four collections each year and a wide selection of accessories, fragrances, home design, and lifestyle items. The latest addition to the Burning Torch family is the fine jewelry collection, Craven Iteri. Rich in precious and semi-precious stones, these handcrafted treasures reflect the same raw and refined sensibility that infuses every Burning Torch piece.